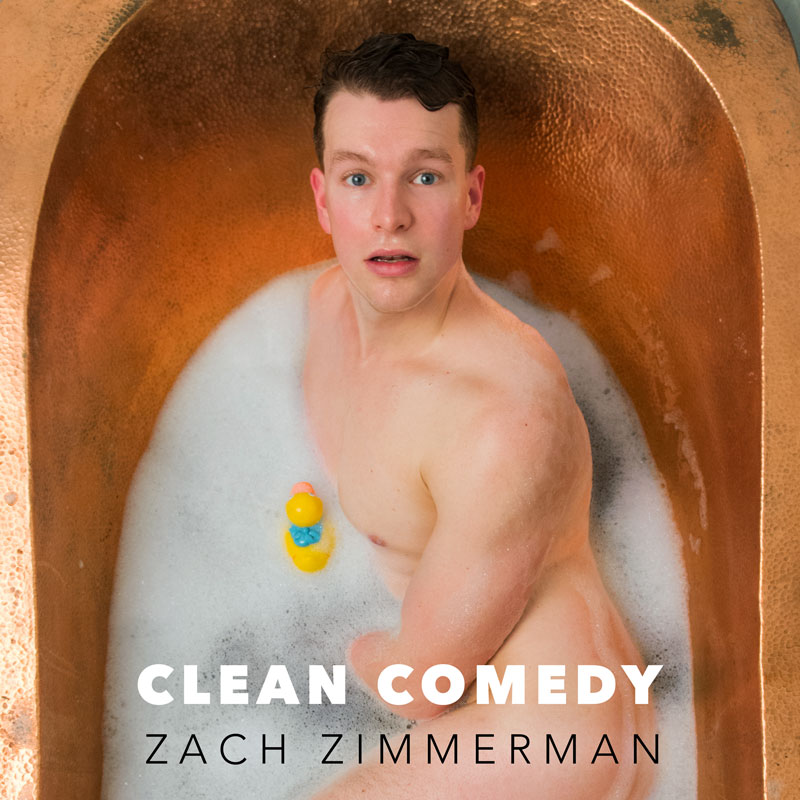 "Clean Comedy" is my first comedy album - and my last if I die in the next year. It covers a lot – sex, religion, family, technology, all the juicy stuff - and it's pretty goddamn funny!
If you listen, I'll send you nudes. JK. JK? The whole thing is independently released (brave? dumb?), and all the proceeds will go towards health insurance for my hypochondria. If you like it, tell a friend and post about it on social media (raw form of gay currency).
Now, get to it and read all these nice things friends said if you're still on the fence:
Hilarious!
Louis Faranda, Caroline's on Broadway
Sharp, funny, observant, thoughtful, and thought-provoking.
Bob Mondello, NPR
A highly personal exploration of gay identity, sex, a breakup on a plane, religious reckoning, and how much his mom wishes he wouldn't talk about any of that stuff… extremely vulnerable
Vulture
Zach is effortlessly funny. I've only said this about Robyn and Zach Zimmerman: I wish the album were longer.
Jo Firestone, The Tonight Show
I love Zach Zimmerman. He's a comic that reminds me of the ones I loved growing up. A clear perspective, surprising takes, and great energy. He's also cute, which you can't hear on an album. That's a shame.
Matt Rogers, Las Culturistas
Zach's debut album is a force, with all the storytelling chops of Mike Birbiglia mixed in with the sharp and timely commentary of Hannah Gadsby. Nothing is off limits — God, Grindr etiquette, and ranch dressing are all served up with the wit and charm only he can deliver.
Halcyon Person, Full Frontal with Samantha Bee
Clean Comedy is hilarious all the way through. Until the very end, when it's suddenly beautiful and validating. Until the VERY end, when it's so fucking gross. That's Zach in a nutshell! Highly recommend!
Blythe Roberson, Author, How to Date Men When You Hate Men
One of the funniest people we've heard in a long time… we'd love a Zach Zimmerman sitcom to happen. Or a Netflix comedy special.
He Said Magazine
So glad you had a fun experience with our product!
Marketing team, Clone-a-Willy: The in-home penis casting kit